IREGA IVF Clinic - Where Parenthood Becomes Reality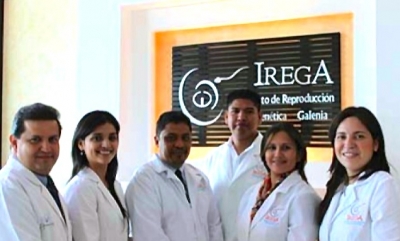 We offer:
Individualized approach to treating infertility
Highest national standards in infertility treatment
Advanced infertility care, close to home
and an exclusive IVF Warranty— if your first attempt is unsuccessful; a second attempt is provided at no charge.
Extremely committed and vastly attentive to your needs, IREGA IVF Clinic of Cancun has accomplished some of the most notable IVF achievements in Mexico, including:
—First fertility center established in the Mexican Caribbean
—First IVF baby created and born in the Mexican Caribbean
—First PESA IVF babies
—First vitrified egg babies created in the Mexican Caribbean
—First egg bank in the Mexican Caribbean
—First baby born from frozen eggs in the Mexican Caribbean
—First baby born from donor sperm in the Mexican Caribbean
Our personalized approach in providing infertility care is accomplished by expert IVF specialists, Dr. Mayra Wendolee De la Garza and Dr. Adan Oliveros Ceballos, who have premier qualifications and international accreditations. It is their vision of providing high quality, comprehensive infertility treatments delivered with concern and tailored care that is the foundation of our fertility clinic.
Our IREGA IVF Clinic of Cancun team has an all-inclusive range of infertility expertise and advanced treatments to provide you with the safest treatments in a cutting-edge, highly expedient facility—within the world-renowned lustrous Galenia hospital in Cancun.
We are the only center that provides an IVF Warranty program that optimizes and greatly increase your chances of getting what you crave the most—a family.
Your Life— Our Passion
The high success rates of IREGA IVF Clinic of Cancun are the amazing outcome of our expertise and continuous improvement in our treatment research. We offer you the latest advances in the field of Assisted Reproduction and Genetics with the most focused and certified fertility care.
Embraced by no waiting lists, ease of travel (Cancun City Guide) and the capability to immediately attain infertility diagnostic testing and affordable costs, IREGA IVF Clinic of Cancun offers vast experience in Egg Donation and PGD services. Other highly sought after treatments include:
IUI (Intra Uterine Insemination)- IUI with Sperm Donation - IVF with ICSI - IVF with Donor Sperm - IVF with Egg Donation and Gender Selection - IVF with Sperm Donation and Gender Selection - Egg (Oocyte) Freezing - Embryo Freezing - Frozen Embryo Transfer Cycle - Microdissection TESE - PESA (Percutaneous Epididymal Sperm Aspiration) - TESA (Testicular Sperm Aspiration) - Sperm Freezing & Storage
Diagnosing Infertility with IREGA IVF Clinic
Here at IREGA IVF Clinic of Cancun, we offer wide-ranging and clinically innovative fertility testing. We analyze our patients' medical records and begin a careful evaluation of your individual fertility status.
To better understand female infertility, tests include blood tests, an endometrial biopsy, a hysterosalpingogram, a hysterosonogram, a hysteroscopy, and a laparoscopy to evaluate, the uterus, the fallopian tubes and the pelvis.
For couples struggling with male infertility, a thorough semen analysis is performed; in addition we may evaluate strict morphology, anti-sperm antibodies, and Sperm Chromatine Structure Assay (SCSA) and urology evaluation results.
A substantial part of our fertility success includes our approach to fertility diagnoses. IREGA IVF Clinic of Cancun believes in providing couples with straightforward and accurate information. Our fertility experts can help you in all areas of fertility treatment so you can feel confident about your journey to parenthood.
Same-Sex Couples
Our compassionate clinic, IREGA IVF Clinic of Cancun comfortably opens the door to gay singles and couples who are in pursuit of happiness—ultimately building a family. Cancun is home to some of the world's most gay-friendly locales.
We are very sensitive to the distinctive needs of our LGBT patients and helping them take the first step in building a family.
Our Goal
The ultimate goal for Dr. Mayra, Dr. Adan and the entire IREGA IVF Clinic of Cancun is to help exhaust all possibilities in affording you a healthy pregnancy. This intense approach involves delivering the highest quality of fertility care and providing comprehensive fertility treatments that treat more than just the physical symptoms of infertility.